Dr. Jenifer Chatfield is a double-boarded veterinary specialist with a passion for sharing her love of the animal world with others through
edu-tainment
on multiple platforms. Her Youtube show,
"Is this a thing: Veterinary translations for pet owners!"
is a great resource for informed pet owners and her
podcast
and
Youtube show
, "Chats with the Chatfields" provides side-splitting perspectives through unfiltered and authentic conversations with interesting people from the world of animals.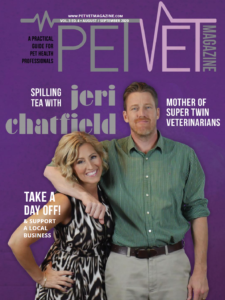 She is a diplomate of both the
American College of Zoological Medicine
(ACZM) and the
American College of Veterinary Preventive Medicine
(ACVPM). Along with her twin brother, Dr. Jason Chatfield, she co-hosts the incredibly popular
podcast
, "
Chats with the Chatfields
." Previously, the dynamic hosts were recognized for their show on
PetLife Radio, Vet Candy's "In other news…"
when it became the the #1 veterinary podcast and was the first veterinary show ever recognized by the
People's Choice Podcast Awards
as a finalist in the Science and Medicine category. Dr. Jen and the entire Chatfield family were recently profiled by
Pet Vet magazine
. Dr. Jen serves as an Associate Editor for the
Journal of Zoo and Wildlife Medicine
and has been integral in shaping the peer-reviewed literature for more than 15 years. Her
peer-reviewed publications
cover a range of topics including pharmacokinetics, wild animal behavior, infectious disease, and assisted reproduction in endangered species. Dr. Jen's interest in rare species started young on the Chatfield Farm. Her parents were successful in breeding and keeping some of the world's most incredible species such as Bali mynahs, red-breasted geese, ruffed and ring-tailed lemurs, Persian onagers, blue-billed curassows, Saurus and Stanley cranes, and more! Dr. Jen and her twin brother, Dr. Jason, were also prominent athletes growing up playing Little League baseball and basketball. Dr. Jen was the only girl playing in the boys' city little league from age 5 until age 13 when the league forced her to play in the girls' softball league instead. After stand-out years playing high school basketball and softball, Dr. Jen played for Eastern New Mexico University as a walk-on volleyball player and was subsequently awarded a scholarship. Dr. Jason also attended Eastern and played basketball for the school. Dr. Jen completed three years of undergraduate work before receiving early acceptance into the Texas A&M University College of Veterinary Medicine. After obtaining her veterinary degree, Dr. Jen immersed herself into the magic of veterinary medicine – sometimes working day and night! This strong work ethic is part of what drives Dr. Jen to share her passion with her colleagues! Dr. Jen has worn many hats during her career including:
Instructor for FEMA/DHS agroterrorism courses
Regional Leader for the National Disaster Medicine System Team for several years
Owner of 2 emergency clinics in two different states
Senior Veterinarian in zoological parks open to the public
Researcher completing fieldwork in Madagascar and South America
Congressional Science Fellow on Capitol Hill in the US House of Representatives and then as a Senior Science Advisor
Veterinary and Agricultural Liaison in the Florida Department of Health
Developer/Coordinator of public health response to emerging pathogens and bioterrorism as a Cities Readiness Initiative (CRI) Coordinator for the Florida Department of Health
Curriculum developer including "Veterinary Support to Zoological Animals in a Disaster" for the National Veterinary Response Team's (NVRT) training curriculum
Dr. Jen believes in giving back to her community and is an active volunteer in the Medical Reserve Corps. She pioneered the award-winning "
One Health Approach to a Mobile Medical Unit
," one of the nation's first "street medicine" programs to address zoonotic disease prevention among a homeless and indigent human population. Dr. Jen has chaired the Florida Veterinary Medical Association's (FVMA) One Health Committee and co-chaired FVMA's Disaster Response Committee. She was an original founder of the Pasco Hernando Veterinary Medical Association (PHVMA) and has served as its President since 2008. Recently, she was selected as a Future Leader by the AVMA and received a 2 Gold Star awards for "Outstanding contributions to veterinary medicine in Florida" from the FVMA. Currently, Dr. Jen is the chair of the American College of Veterinary Preventive Medicine's Marketing Committee. Infectious diseases, most especially zoonotic diseases, are a passion of Dr. Jen's. She has a keen interest in biosecurity and her work for the Dept. of Homeland Security's courses has been focused on topics such as foreign animal diseases, quarantine and isolation, and malicious introduction of pathogens. Dr. Jen served on the curriculum redevelopment team for the nationally-renowned DHS course, "
Emergency Response to a Domestic Biological Incident
." She routinely speaks at the nation's largest veterinary
continuing education conferences with standing room only on many varied topics, including diversity in the veterinary profession, zoo medicine, infectious diseases, disaster response, and public health. On a personal note, Dr. Jen loves French bulldogs, Himalayan cats, the dirtiest of vodka martinis, and basking on Caribbean beaches. Interested in having Dr. Jen at your next event, on your next show, or need a consultation? Contact us for booking information at
info@drjenthevet.com
.